About Us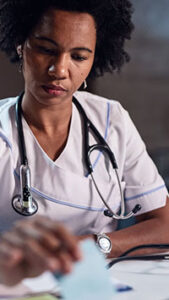 Alife Med Staffing has been known for the quality and care our staff demonstrates, coupled with our sensitivity to our client's needs. Alife Med Staffing has been determined to redefine the meaning of personal care and hospital staffing with our Patient and Client-Centred Models.
We are known for our exceptional responsiveness, our compassionate approach and our dedication to exemplary care. Our high ethical standards have been a key ingredient to our success; one we will continuously foster and protect . We strive to keep our core values as constant pillars of our healthcare and customer service. We measure our success based on our client's experience with our nurses and other health care workers.
Client Testimonials
I just wanted to take a moment to tell you how pleased we were with the service we received from Alife Med Staffing but more importantly, with the care that my dad received from his primary Caregiver. It meant so much to us that we had a Caregiver that not only was a "giver of care" but also a "giver of love and compassion." For this we are extremely grateful and wanted to share our appreciation
Jennifer Ebron
Home Care Services
"I am very happy with the way Alife Med Staffing personnel showed professionalism and patience in handling the start of our care for my Aunt. My Aunt is very pleased as well. For 2 years I tried getting help and care for her but with no success. Again, I am so happy for your best efforts."
Christopher Strock
Nursing Services
The staff provided by Alife Med Staffing have been the primary caregiver for my father for almost 2 years, starting just after my mother passed away. She always provides my dad with competent, gentle, and loving care , and because of her, my wife and I rest easy at night knowing that my father is getting the very best care possible.
John White
Home Care Services
Alife Med Staffing has been supplying us for a few years. They have always been our first call when we need someone to cover our shortfalls in staffing. The office team are very friendly and communicate very well and the people they send are always of a good quality and fit in with our own staff teams seamlessly.
Kimberly Rogers
Nursing Services